Thomas Hampel
4 January 2021
2021 started with a little surprise: The property box in your HCL Notes client doesn't show the Created date for documents created in 2021 any longer.

Here is a screenshot of what is missing: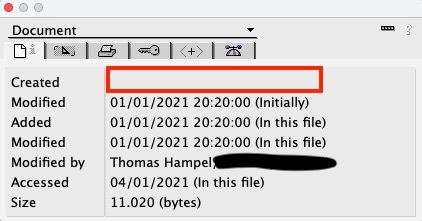 It affects just the display of the date/time value in the property box in all the Notes clients (Standard & Basic, on MacOS and Windows).

From a technical point of view the date/time values are still there but they are just not displayed in the property box.

The property box refers to the date when the document was created and its empty when the document was created in 2021 or later.

It is still displayed correctly when a field $Created exists in the document, e.g. this is the case for SMTP mails.


So far this was reported to appear with the following versions:
Notes 11.0.1

Notes 10.0.x

Notes 9.0.1

Notes 8.5.x
and likely also appearing in earlier versions.

HCL Development is working on getting this minor issue fixed - details are tracked under SPR# NNAIBWX3MD
and in HCL Technote
KB0086175
Update: This problem is fixed in
Notes 11.0.1 FP2 IF1

References:
Comments
[2]