Thomas Hampel
16 August 2013
Problem
A Notes ID is not uploaded to an IDVault although the configuration of the Client itself as well as the IDVault incl. its trust certificates seem to be correct.


Analysis
The administrator wanted to force the Notes client to upload his ID file to the server, since there already was an (old) IDfile stored in the vault, it has been deleted manually.
However, the client still doesnt upload its local userID.
Looking at the servers log file / Security Events....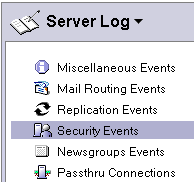 provided a few hints about the problem:
> Unable to find ID for 'dummy username/OU/O' in vault 'O=IDVault'. Error: 03:11
> ID failed to authenticate in vault 'O=IDVault'. 'dummy username/OU/O' (IP address 10.10.10.10:57739) made request. Error: 03:11
and further down other user names:
> Error: Entry not found in index
Indicating a view isnt updated...


Resolution
1.) Update the view index for the hidden view $IDFile in the IDVault database by using the following command
load updall -R IBM_ID_VAULT\IDvault.nsf
2.) Remove the pending name change as described in my previous blog post
id-vault-error-0311.htm
Hint: Although this has fixed the problem in my case, there's more to know.
IDVault does not honor view updates made directly in the database, maybe for performance reasons.
There is a DEBUG parameter for the IDVault which can override this behaviour so that VIEWUPDATES are being reflected/enabled.
Comments
[1]